The Woodhaven Assisted Living Neighborhood has 30 apartments that are designed to provide:
Safety and security
24-hour assistance
Social stimulation
Recreational, educational, and spiritual activities.
Three restaurant style meals with menus
Assistance with bathing/showering/personal hygiene
Medication administration
Laundering of all linens and personal laundry
Wheelchair escorts to meals and life enrichment activities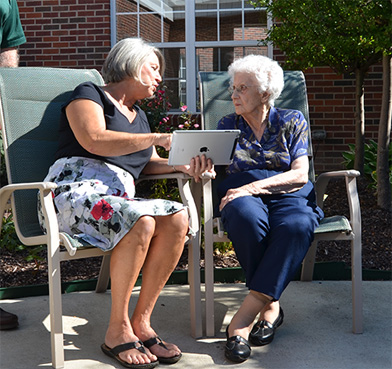 Potential residents are evaluated prior to admission with the goal of offering them the least restrictive and most home-like environment. For those who are unsure about placement, Woodhaven gladly offers them the opportunity to come for the day – or as many days as needed – to observe our facility and participate in activities.
Apartment Type
Price
Privacy room
500 ft2 (shared bath)
from $150 per day or $4,500 per month
Studio apartment
350 ft2
from $185 per day or $5,550 per month
One bedroom apartment
450 ft2
from $200 per day or $6,000 per month
Transition Room
from $180 per day or $5,400 per month
Every one of our residents is given a personal service plan, which is developed together with the help of:
Family members
Nurses
Life Enrichment Staff
Dining Assistance Staff
Others on our interdisciplinary team
The service plan is updated every year, or more frequently in the case of a significant change in condition.
Woodhaven's assisted living offers state-of-the-art features and amenities. Each apartment has its own:
Spacious great room
Master bedroom with on-suite full bath
Kitchenette with sink

Cupboards
Microwave
Refrigerator
Freezer
One-bedroom apartments have three closets each! All studio apartments have built-in writing desks. Bathrooms are huge and totally barrier-free. The dining room is intimate and elegant with residents enjoying selective menus for each meal.