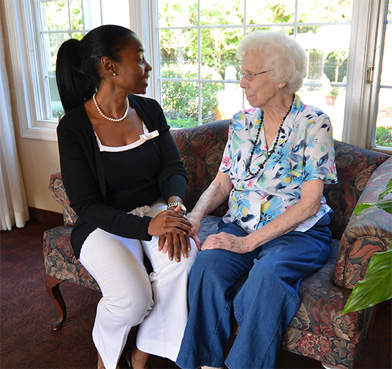 Woodhaven's memory support center features a secured perimeter for added safety.
Pleasant gathering areas and meaningful places to explore allow Residents to safely continue doing what they enjoy most. The dining room is nestled in the middle of a dense forest with expansive picture windows that bring the outdoors in.
Residents enjoy:
A totally secured perimeter around the neighborhood, including access to the large outdoor courtyard
Accommodations designed from a resident perspective
Access to meaningful life-enriching activities
Expert staff who understand the unique needs and challenges of memory changes
Apartment Type
Price
Companion room
200 ft2 (shared)
from $165 per day or $4,950 per month
Privacy room
350 ft2 (shared bath)
from $175 per day or $5,250 per month
Private room
200 ft2
from $195 per day or $5,850 per month
Woodhaven's caregiving team has the experience and expertise in dealing with a variety of complex memory support issues and has built lasting relationships with many residents and their families. Woodhaven's memory support center is one of the few with licensed nurses 24/7/365!
Woodhaven staff works to preserve dignity in spite of the physical or mental changes associated with memory impairment or Alzheimer's disease.
There are many challenges that families face when caring for loved ones with memory loss. Finding a quality facility where the individual needs for special family members are met should not be one of them. We are Woodhaven, and we care.